Escape the hustle and bustle of the big city
Duration 4 hours
Time 9:00 am & 2:00 pm every day
Price 1,300 THB per cyclist
City Back Streets
Cycle through the quiet city back streets that are well off the beaten tourist path and experience the change to a slow pace of life
Local Community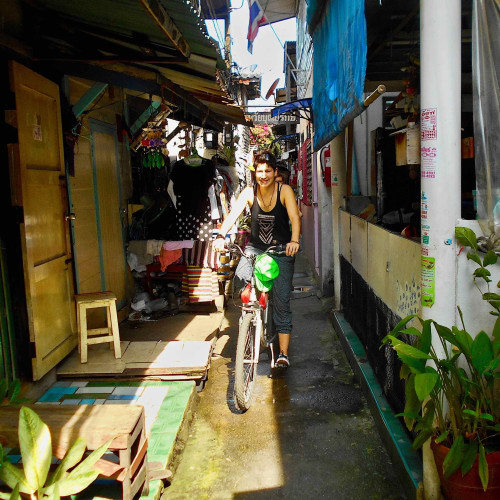 Navigate the maze of narrow alleys that pass family homes and experience a unique insight of daily life in the local community
Chao Phraya River
Relax in the shade of the humble home built on the bank of the river and enjoy the peaceful ambience of life far from the city
Long Tail Boat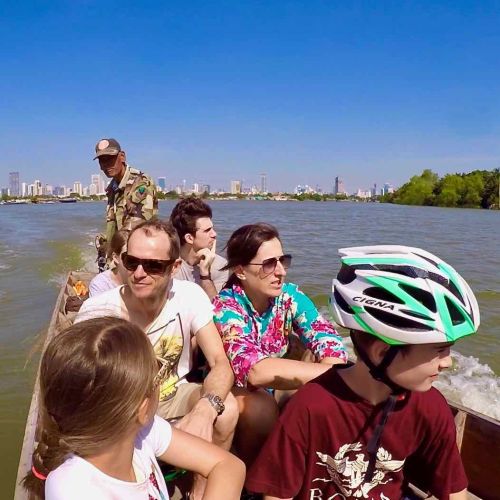 Watch as the city skyscrapers disappear on the high-speed adventure across the river to the unfolding lush green jungle
Phra Pradaeng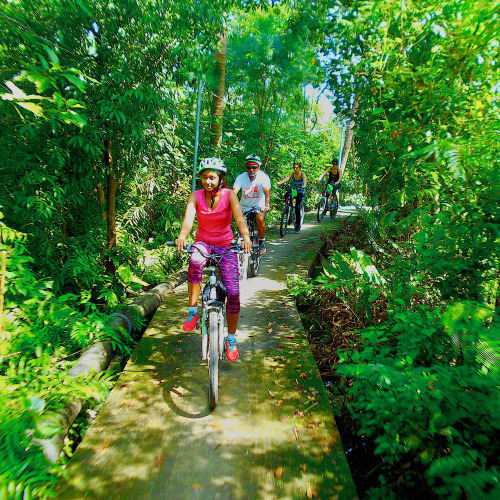 Cycle along the narrow paths surrounded with endless greenery and enjoy the fresh air and the calm sounds of nature
Country Roads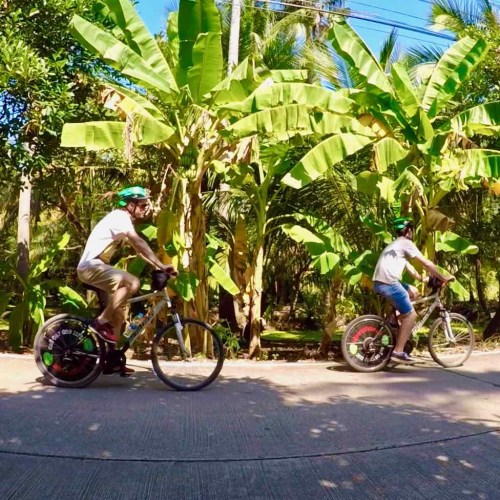 Explore the peaceful country roads and meet some of the local residents and taste some delicious traditional local snacks
Sri Nakhon Khuean Khan
Cycle around the beautiful and peaceful green park and relax by the lake in the shade of the trees and feed the hungry fish
Off Road Biking
Take an exciting detour into the unexplored green wilderness and enjoy the diverse sights, sounds and smell of nature
Raised Pathways
Experience the thrill and feel the adrenaline rush cycling along the network of pathways high above the mangrove vegetation
Say Goodbye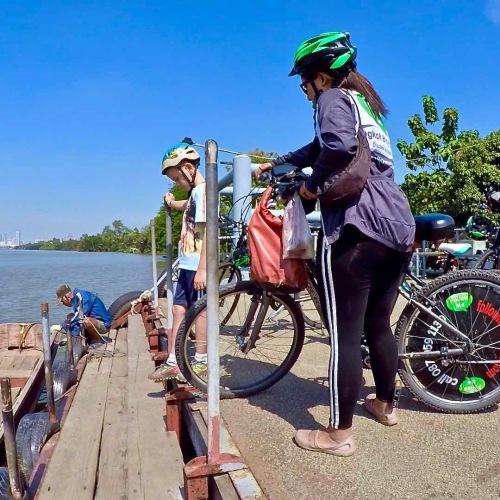 Returning back to the busy city in the long tail boat watch as the peaceful green oasis slowly disappears into the distance
Our Clubhouse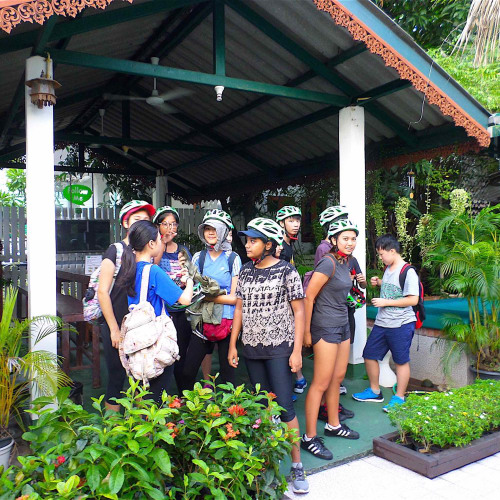 Relax in our peaceful Clubhouse garden, enjoy a free fish foot spa, meet your friendly guide and say hello to our friendly parrot
What we will do
We will meet you at our Clubhouse and show you a short safety video before selecting a bike that is suitable for you.
We will then cycle down the city back streets towards the river and feel the gradual change to a slow pace of life. In the small humble local community, we will leave the outside world behind and experience the daily life of the friendly local residents.
On the bank of the Chao Phraya River we will relax in the cool breeze and soak in the peaceful ambience of life on the river. Climbing into the long tail boat we will enjoy the exhilarating high-speed trip across the river. As the city skyscrapers disappear into the distance we will see the lush green jungle unfolding before us.
Arriving at the Phra Pradaeng peninsula, known as the 'Lungs of Bangkok', we will cycle along the peaceful country roads and narrow pathways that are surrounded by nature. We will visit a small local roadside shop and taste some traditional snacks. After exploring the large beautiful green park, we will relax under the shade of the trees and feed the hungry fish.
We will head back to the river along the network of raised pathways. Cycling high above the overgrown mangroves we will enjoy the thrill of the adrenaline rush. Back in the long tail boat we will leave the lush greenery behind as we return to the city.
Back at our Clubhouse you can relax in our peaceful garden and enjoy a free fish foot spa. Don't forget, the following day we will send you a link to download the memories of your Bangkok experience.
What we will provide
Adult bicycles fitted with a bike bag to store small items during the tour
Children's bicycles suitable for a minimum height of 120cm
Child carriers suitable for a maximum weight of 18kg and maximum height of 115cm
Safety helmets which we recommend you wear
Welcome drinks and Wi-Fi while you relax in our peaceful Clubhouse garden
A fun and friendly English-speaking local Thai guide
Cold drinks and snacks during the tour which your guide will offer you
Two exciting long tail boat trips across the mighty Chao Phraya River
Life vests which we recommend you wear whilst in the boat
Unlimited use and plenty of giggles in our crazy fish foot spa
An email link to download the fantastic pictures that your guide will take
What else you should know
Your safety and enjoyment are our main priority so we limit the group size to a maximum of 8 guests. For larger groups we have additional guides and the group may also be split.
We cycle on narrow pathways and there is a short stretch on a busy main road. To join this tour, you must be able to ride a bicycle with confidence.
Children are welcome but as parents you must decide whether this tour is suitable. If you have children in Your Booking we recommend a Private Tour that can be tailored to suit your kids.
Life vests are available on the long tail boat and you are required to wear them.
This tour will not be cancelled if it rains. In Bangkok the rain tends to be very localised and rarely lasts more than 30 minutes, either way don't worry as we provide free rain ponchos.
This tour starts and finishes at our Clubhouse , we will send you a detailed map on how to find us with your Booking Confirmation.
You can pay by cash (Thai Baht only) when we meet on the day of your tour. You can also pay online by Credit Card or PayPal; details will be in your Booking Confirmation.
The tour duration may be affected by the groups cycling abilities, or other unforeseen factors, and your guide may have to make impromptu changes during the tour. If you prefer you can book a Private Tour, please select the option on the booking form.
You may find our FAQ's useful; if you have any other questions please Contact us.