Experience Thai culture and local life
Duration 4.5 hours
Time 8:30 am & 1:30 pm every day
Price 1,300 THB per cyclist
Hidden Streets
Cycle through the city streets that are well off the beaten tourist path and experience a unique insight of local life in Bangkok
Small Lanes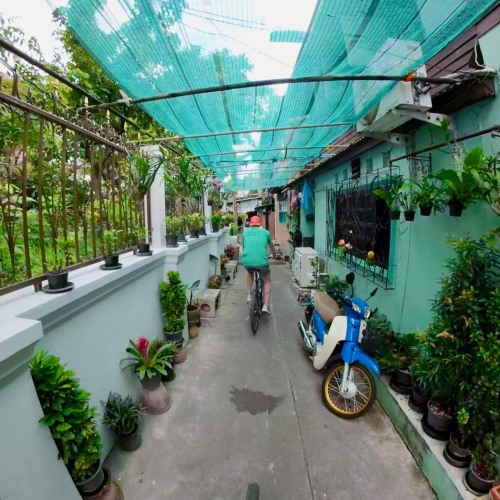 Explore the warren of small lanes in the hidden communities and enjoy some delicious local street food snacks
Chow Sue Kong Shrine
Explore the local community and old Chinese shrine and make an offering to the deity to wish for good health and protection
Chinatown
Enter the Dragon and soak in the vibrant atmosphere of the street markets, where it is said, you can find just about anything!
Pak Khlong Talat
Explore the biggest fresh flower market in Bangkok which is overflowing with dazzling fauna from across Thailand
Chao Phraya River
Cycle across the River of Kings, the lifeblood of Bangkok, and enjoy the unfolding views of the beautiful riverside landmarks
Wat Prayoon
Take some time out in the old Portuguese community, relax in the cool shade of the temple grounds and feed the hungry turtles!
Wat Kalayanamit
Discover the beautiful culture of Thailand and make an offering for the largest seated Buddha image in Bangkok
River Cycle Path
Slowly meander along the river cycle path and enjoy the refreshing cool breeze and the fantastic views across the city
River Ferry
Join the locals and roll onto the river ferry and enjoy the peaceful scenic journey back across the mighty Chao Phraya River
Our Clubhouse
Relax under the shade of the Sala in our peaceful Clubhouse garden, enjoy a free fish foot spa and play with our friendly parrot
What we will do
We will meet you at our Clubhouse and show you a short safety video before selecting a bike that is suitable for you.
We will then cycle through the maze of colourful back streets and experience a unique insight of local life in Bangkok. We will discover the charming 'Old Bangkok' atmosphere as we explore the delightful old Muslim and Chinese communities and we will taste some delicious street food snacks.
At the local Chinese shrine we will make offerings to the deity and wish for good health and protection. We will continue our journey into the busy streets of Chinatown. We can absorb the vibrant atmosphere as we explore the bustling market stalls and street food vendors.
Down by the river we will walk through the beautiful scent filled flower market. All your senses will be awakened as we explore the colourful market stalls that are filled with dazzling flora from across Thailand.
We will cross the River of Kings to the old capital of Thailand and relax in the tranquil temple grounds as we feed the hungry turtles! As we explore the peaceful riverside temples we will explain about the beautiful culture of Thailand and make an offering to Buddha.
We will return home along the meandering river cycle path. Crossing the river by ferry we will enjoy the unfolding city views and the relaxing cool breeze.
Back at our Clubhouse you can relax in our peaceful garden and enjoy a free fish foot spa. Don't forget, the following day we will send you a link to download the memories of your Bangkok experience.
What we will provide
Adult bicycles fitted with a bike bag to store small items during the tour
Children's bicycles suitable for a minimum height of 120cm
Child carriers suitable for a maximum weight of 18kg and maximum height of 115cm
Safety helmets which we recommend you wear
Welcome drinks and Wi-Fi while you relax in our peaceful Clubhouse garden
A fun and friendly English-speaking local Thai guide
Cold drinks and snacks during the tour which your guide will offer you
Sarongs to cover your arms and knees if you wish to enter any temples
A relaxing ferry trip across the mighty Chao Phraya River
Unlimited use and plenty of giggles in our crazy fish foot spa
An email link to download the fantastic pictures that your guide will take
What else you should know
Your safety and enjoyment are our main priority so we limit the group size to a maximum of 8 guests. For larger groups we have additional guides and the group may also be split.
To join this tour, you must be able to ride a bicycle.
Children are welcome but as parents you must decide whether this tour is suitable. If you have children in Your Booking we recommend a Private Tour that can be tailored to suit your kids.
This tour will not be cancelled if it rains. In Bangkok the rain tends to be very localised and rarely lasts more than 30 minutes, either way don't worry as we provide free rain ponchos.
This tour starts and finishes at our Clubhouse , we will send you a detailed map on how to find us with your Booking Confirmation.
You can pay by cash (Thai Baht only) when we meet on the day of your tour. You can also pay online by Credit Card or PayPal; details will be in your Booking Confirmation.
The tour duration may be affected by the groups cycling abilities, or other unforeseen factors, and your guide may have to make impromptu changes during the tour. If you prefer you can book a Private Tour, please select the option on the booking form.
You may find our FAQ's useful; if you have any other questions please Contact us.